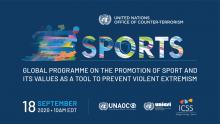 New York, 18 September 2020 - Sports have historically played a significant role in the dissemination of positive values throughout the world and across civilizations and cultures, particularly for youth. Sport is a powerful vector to facilitate integration, promote gender equality, encourage youth empowerment and support efforts aimed at preventing and countering violent-extremism and radicalization.
The potential of the Artificial Intelligence for law enforcement, legal professionals, the court system and even the penal system to augment human capabilities is enormous. However, we need to truly test the limits of our creativity and innovation to overcome the challenges that come with these technologies, as well as to develop entirely new approaches, standards and metrics that will be necessitated by them.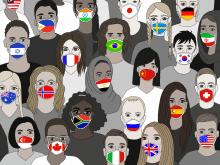 An  International Experts Gathering  has been organized under the leadership of the United Arab Emirates within the framework of the European Union Chemical Biological Radiological and Nuclear Centres of Excellence risk mitigation initiative (EU CBRN CoE) and with the involvement of the Head of the CBRN CoE Secretariat of the Cooperation Council for the Arab States (GCC), Brigadier Hussein Al Harthi. 
Subscribe to